Please note: Clearly say "Knowing information at TOP 10 Hoi An" during contact, to enjoy more incentives.
High-rise, noodles, chicken rice, phoenix bread are so famous dishes in Hoi An that visitors coming to this land for the first time cannot miss. However, if you have come here for the 2nd or 3rd time and are too familiar with the above dishes and want to try a different dish then Hoi An noodle soup is the perfect choice. Here is a list of the cheapest Hoi An noodle shops that you can try.
1. Ong Ty noodle soup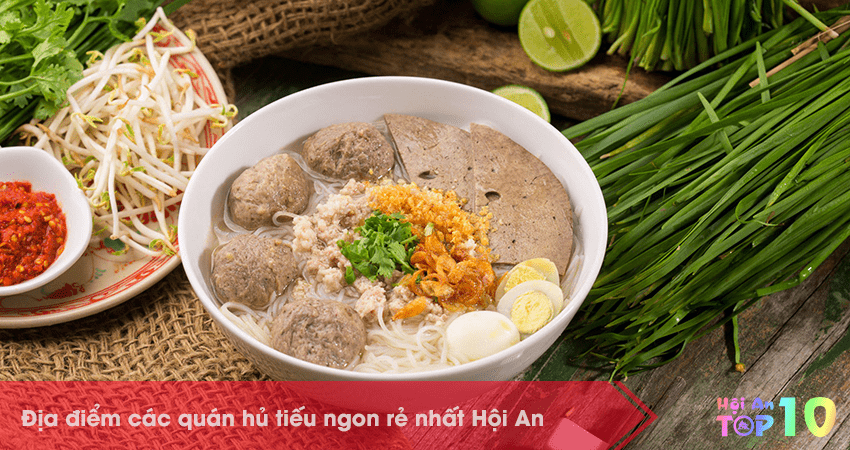 Ong Ty noodle soup, attractive dish in Hoi An
The high-rise restaurant, Ong Ty noodle soup located at 69 Phan Chu Trinh – Hoi An (next to Le Ba Truyen 1 Hoi An Restaurant) is a familiar place for diners who want to enjoy a popular dish.
Called the shop is still a bit "luxury" because in fact, Ong Ty restaurant only has only one material truck and a few surrounding tables to sit on.
Although somewhat narrow, but the space of "restaurant" is extremely clean, unlike the usual sidewalk restaurants.
You can see all the ingredients of the Hoi An noodle bowl through the transparent glass. Although it is a street food, Mr. Ty's noodles are beautifully presented.
Thin slices of meat are fried and arranged on top of a noodle soup, accompanied by beef rolls, pork liver, a pinch of crushed peanuts and some fragrant leaves like onions and cilantro.
Vegetables served with Hoi An noodles are green papaya pieces that are pickled in sour, need boat and bean sprouts. Just thinking about it here is just wanting to go right to eat a bowl of noodles.
2. Noodles 2 Toan
Like Ong Ty noodles, Hoi An 2 Toan noodle is a sidewalk restaurant that is quite familiar to the people of Hoi An. This noodle shop of Mr. Toan is also very simple, just a few tables located in an alley in Hoi An.
Because the place is not easy to find, visitors to Toan's shop are acquaintances.
Basically, the ingredients in Mr. Toan's noodles are no different from Mr. Ty's.
In addition, when coming to Mr. Toan's noodle shop, you can also enjoy other familiar dishes such as high-rise buildings, chicken noodles, …
According to the familiar guests, the high-rise dish here is the most famous and attractive. If you have the opportunity, you can absolutely try both 2. The price of noodles at the restaurant is also very affordable.
Xem thêm TOP 10 địa chỉ quán chay Hội An
3. Nam Vang noodle soup, Mr. Huy
Nam Vang noodles
Nam Vang noodle soup is a famous dish, considered the "specialty" of Hoi An. Hoi An Nam Vang noodle soup originated from Cambodia but is processed by the Chinese in a very unique way.
If you have a chance to come to Hoi An, try Nam Vang anh Huy noodle soup at 74 Thai Phien.
The main ingredient of the dish is dry noodles, the broth is made from minced meat and a little pork belly.
In addition, Nam Vang noodle soup also has some other ingredients such as bean sprouts, chives, minced meat and fried shrimp.
Contact us IF you have a need to advertise a service or product. Email: [email protected]
Mr. Huy's noodle shop is sold right in front of the house, simply with a cart of ingredients and a few surrounding tables.
Above is a list of 3 popular, delicious and cheap noodle shops that you should not miss when coming to Hoi An. In general, each restaurant has a different taste, but no matter which restaurant, Hoi An noodle soup is still extremely attractive and worth a try.
Attention:
The article is referenced and synthesized from many website sources on the Internet! Please give us feedback if you find the above information is not correct. Thank you!
Source: Collect on the internet